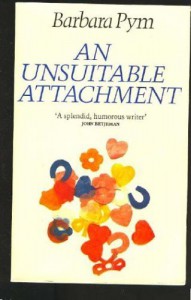 This lightly humorous tale is set in a north London parish in the 50s/60s and concerns the marrying off (or not) of some members of that parish. Both the author and the characters in it assume that most people go to church, and that that church is CofE.
It is of its time, so can seem a little twee, with Ianthe being a little shocked that a woman knows about wine and sentiments such as "like many modern young women she had the right old fashioned ideas about men and their work". Pym is perceptive about her characters' inner thoughts, but not as acerbic as more modern writers often are, though there are touches: "indignant that Miss X wasn't conforming more to type", being "fiercely hygienic and protestant" and "teeth that could only have been her own".
Propriety and class are major concerns for all the main characters, so there are lots of misunderstandings, wrong assumptions and missed opportunities because everyone is too polite to say anything, though sometimes they nearly do, as when trying to angle for a lift "in the car they did not know he possessed". I found it rather charming that the characters were anxious about whether to refer to the lounge, drawing room or sitting room and whether the evening meal was tea or supper, according to context.
As I read it, similarities with Elizabeth Bowen came to mind, and then Pym described one of her characters as being like an EB heroine. Some of them seem a little stereotypical at first, but as the story progresses, depth and variety are added. On the other hand, a "dress of a rather uninteresting shade of blue" reminded me of Douglas Adams' Hooloovoo, and I'm not sure if that's a good thing or not!